Greetings and Salutations! The Merriest of Christmases and Happy Holidays to each of my fellow wine sleuths and wine buddies! I have a treat for the readers of The Wine Bargain Sleuth in this month's special Chapter. Indeed, I have the privilege of introducing a dear friend and this month's special guest, the one and only "Yodelmeister" of Peju Province Winery in Napa Valley, a man recognized by San Francisco Magazine as the 2017 "Napa Valley Wine Educator of the Year": Alan Arnopole. For those who have met Alan or who have had the opportunity of tasting with Alan at Peju or during one of his frequent road shows to Dallas and many points beyond, then you already know just what a dynamo and force of human nature he is. For the rest of you, buckle up, my friends. Things might get a little bumpy…but in a good way.
I had the opportunity to interview Alan earlier this week by telephone, but his warmth and wit made it seem like we were sharing a glass of red wine and shooting the bull. With no further introduction needed, here are snippets of the nearly 60 minutes we shared:
TWBS: Alan, thank you for sharing your day with me. Congratulations on your recent 23rd Anniversary with Peju! As a man who values both loyalty and staying power, that is very impressive. Tell us a little about how that happened?
AA: "I am from the dinosaur world–I'm old school. Basically, I'm fortunate to have found a place like Peju so that I don't have to work! Tony Peju, the proprietor of the winery, has always insisted to his team that a visit to Peju should be the most memorable experience of a visit to Napa Valley. I have simply tried to make that happen over the years. If I have a secret, it is that the wine speaks for itself, so I don't have to! That's my secret."
TWBS: I am curious as to what brought you to Peju and to providing wine education to the great unwashed?
AA: "Coming off the road as a musician, I was looking for honest employment…for a change. Through co-producing the Napa Valley Music Festival from 1989 to 1999 (an offshoot of the legendary Kerrville (TX) Music Festival), I had met several wine-related contacts, and one friend mentioned that Peju had run an ad for a desk clerk. Following what I thought was a terrible interview with Tony Peju that I was sure I bombed, I ended up getting a follow up call and was hired in June of 1995. Tony later confessed that it was not my knowledge but my smile that convinced him to hire me."
TWBS: Alan, you are clearly a man of many talents, a Renaissance Man, as it were. May I impose on you to tell about your music background?
AA: "Music for me started at YMCA camp when I was about 12. A friend of mine pointed out that I needed to go to a YMCA camp in Death Valley, CA, which ultimately planted the roots of two of my favorite things, music and the desert. He also pointed out that there would be girls there, and he also told me that girls liked music, which provided an opportunity to meet girls! From those roots my friends and I formed a band which evolved into a jug band during high school. From there, I did a solo project that allowed me to put my songwriting and guitar skills to use. I was known as the "Ragtime Cowboy Jew". I even got to open up in Berkley for another Jewish cowboy from Texas, Kinky Friedman. I still play with long-time friends in a band called the 'California Zephyrs." It was on the road that I was able to develop my performing skills that I have integrated into the wine business, or what I call "Vintertainment."
TWBS: I think we can agree that yodeling is, at least in this country, somewhat of a lost art. When and where did you discover that you were such a fine yodeler?
AA: "Well, before my recent nickname of "The Vintertainer", I was dubbed "The Yodelmeister" and even "Yodel-San", the latter by some Japanese tourists that caught my wine gig. I guess it started with my obsession with Woody Guthrie, and as I sang and yodeled more and more frequently I occasionally got the opportunity to yodel in the mountains, which I really enjoyed. My notoriety as a yodeler even got me a part in the 1976 film "Bound for Glory" that starred David Carradine and was loosely based upon Woody Guthrie. I will confess that once I used my yodeling skills to stop a rude woman from heckling me during a tasting, and I used to enjoy yodeling into the huge blending tanks in the Peju production room."
TWBS: Alan, I believe it is fair to state that once a would-be wine sleuth attends one of your tastings that he or she is unlikely to forget it. How did you develop your presentation, and what is your philosophy of presenting wine?
AA: "My style evolved out of ignorance–what I didn't know about wine. I went to multiple other wine presentations that sounded erudite and high minded, and I knew that I didn't want to do that. (Brief chuckle) Instead, I decided, hey, let's make it fun instead! Candidly, the yodel got me through a lot of presentations, and I don't try to be an expert about things I don't know about. Really, I just followed Tony Peju's philosophy of Let's Make It Accessible!"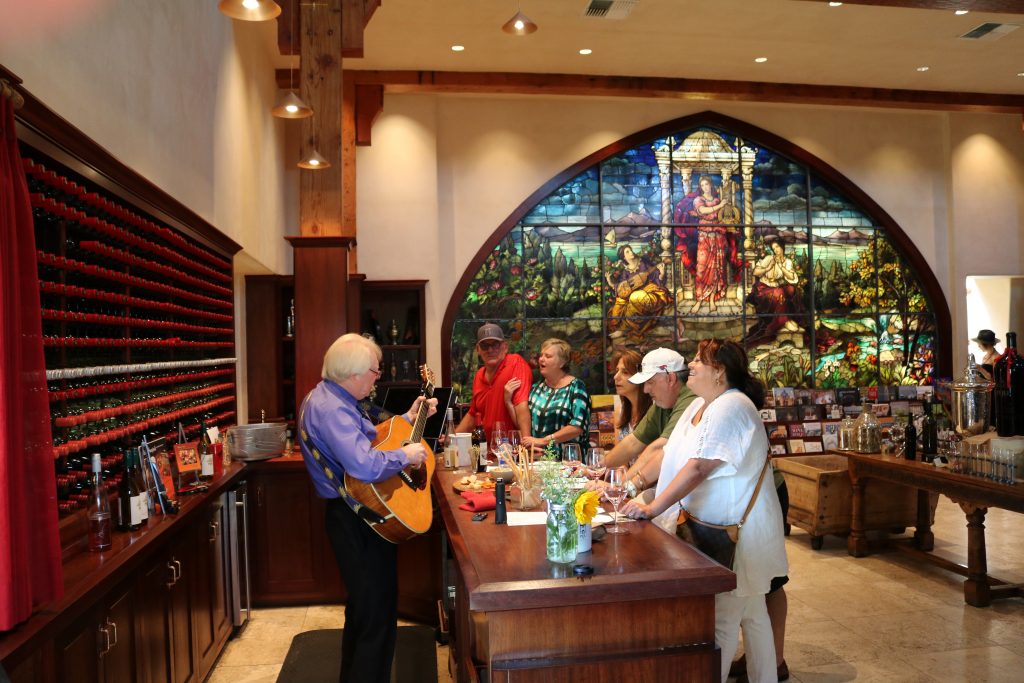 TWBS: Since you work for a world-class winery, you have access to some great wines, of course. Let's try a speed round about your preferences, OK? What is your Wednesday night go-to wine?
AA: "Peju Zinfandel and Peju Savignon Blanc. Winemaker Sara Fowler does a remarkable job on these two vintage after vintage."
TWBS: What is your personal favorite wine and vintage of Peju, and why?
AA: "The 2008 Cabernet Sauvignon and the Reserve Cabernet Sauvignon. A great vintage with low yield that produced very memorable Cabs."
TWBS: When not drinking California wines, what do you enjoy?
AA: "I enjoy Italian wines, such as Nebbiolos and Sangioveses. I also enjoy a nice French Rose occasionally."
TWBS: Changing the subject to music, how many guitars do you own currently?
AA: "I own four guitars and a banjo. My favorites are the Martin acoustic that was a gift from the Peju family and a Taylor acoustic that your friend Stan Bradshaw talked me into. Darn him!"
TWBS: How many guitars does your wife (of over 40 years) think you have?
AA: "Too many!" (laughs)
TWBS: You have been incredibly generous with your time, Alan. One last question. You are a talented musician and songwriter. What is your favorite original song, and why?
AA: "Hmmm. I guess I'd say that "Nappa Rappa" is my favorite. This is the first song that I was challenged to write with an educational twist dealing with wine. The song is a hit whenever I play it, from Stanford business school where I appeared with Tony Peju to a Google Halloween event with Silicon Valley types."
TWBS: Thank you, Alan. I appreciate your making time for our humble blog.
AA: "Thank you. In closing, I was honored to have been chosen as the 2017 Napa Valley Wine Educator of the Year by San Francisco Magazine. It is really interesting to me that what I tried to achieve in the music industry I actually achieved in the wine business."
We will be back next month with many new wines to recommend. In the interim, please check our Thanksgiving Wine recommendations in Chapter 49 to keep you tided over!
Until next month, Cheers!
© The Wine Bargain Sleuth 2018—All Rights Reserved