Greetings and salutations from sweltering North Texas! August is nigh upon us in these parts, and cool, refreshing beverages are a fact of life. Whether iced tea (unsweet, thank you very much!), a summer ale from Shiner or Samuel Adams or a crisp Sauvignon Blanc or perhaps a Rose, any rational human will find something chilled when those pesky consecutive triple-digit days rear their miserable heads! Your humble Wine Bargain Sleuth is certainly no exception to the rule!
Great Napa/Sonoma Getaway. Other than simply toughing it out through the misery until October blows in from somewhere north of Calgary, lucky folks from the Southwest often head for the hills–or rather mountains–or the cool ocean breezes if they have a choice. Speaking of which, there are much worse places to hang in the brutal summer months than Sonoma and Napa, California, where I recently found myself with my lovely significant other for a long weekend that blended (pun intended) my dual loves of Shelby cars with great wines in the idyllic setting of northern California. Hey, somebody had to be there!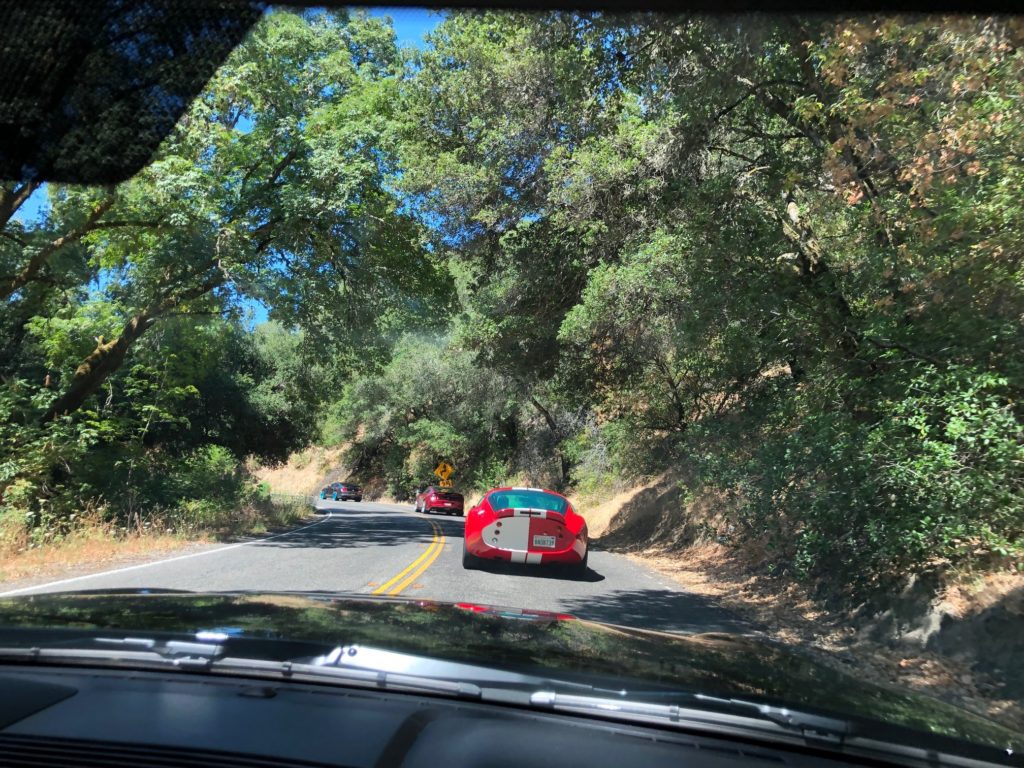 The event of the Shelby Mini-Nationals at the 50 year old, remarkable Sonoma Raceway served as home base for the extended weekend of fun. Events included a "Snakes in the Vine" run from the track easterly through Napa to the Black Stallion Winery off the Silverado Trail to Markham Winery to the gorgeous grounds of the Coppola Winery in Geyserville and back. For the non-car wine sleuths out there, the late, great Carroll Shelby adopted the cobra as his icon as early as 1962, and both the owners of Cobra sports cars and Shelby Mustangs fully embrace the cobra as their own. This particular snake is NOT the one that gives your sleuth the heebie jeebies, thankfully!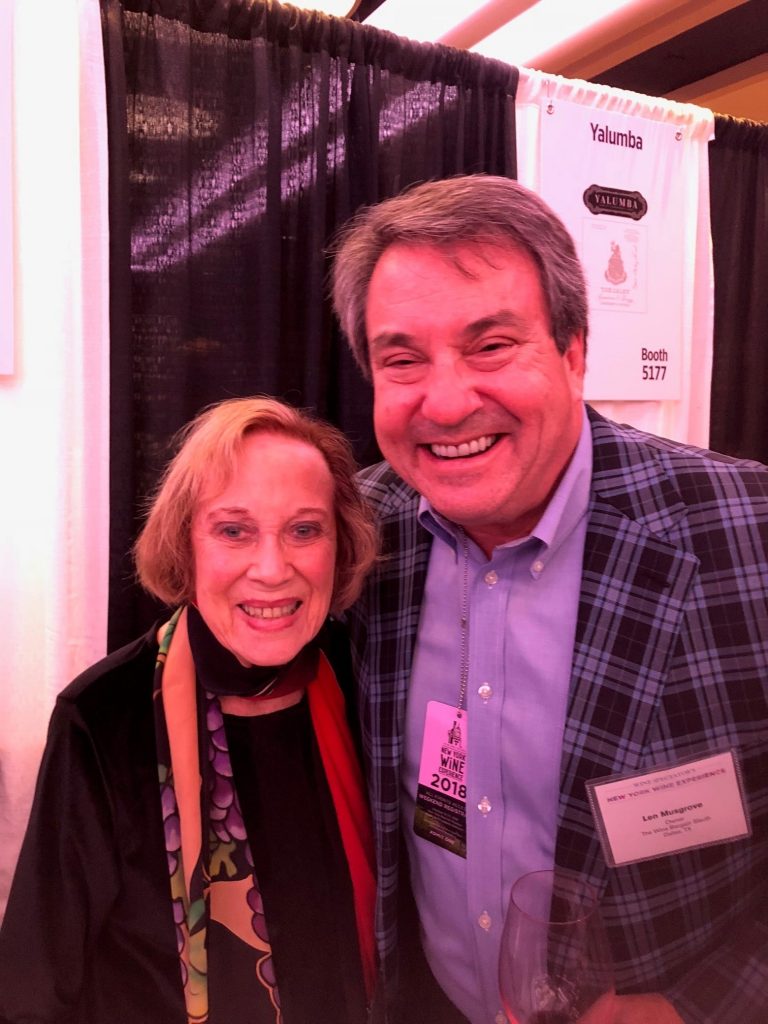 A Tribute to Boots.  Your humble wine bargain sleuth can't let this Chapter pass without a brief tribute to a true Napa Valley pioneer and a wonderful woman in her own right. Together with her late husband Al, Adelle "Boots" Brounstein founded one of the first wineries on Diamond Mountain, on the upper west portion of Napa Valley, which has become the source of some of my favorite Napa Cabs. Diamond Mountain is the home of the key vineyards of such noteworthy labels as Von Strasser, Constant, Hall and of course, Boots' classic label Diamond Creek. Diamond Creek was also arguably a pioneer in its concept of single vineyard wines. I was fortunate to meet Boots in 2018 at the singular New York Wine Experience hosted each year by Wine Spectator, was totally charmed by her and took her up on an invitation to "come see me" at the Diamond Creek Vineyard earlier this year. Boots, 92 years young, dropped by our tasting after a spirited pilates workout to say hello, and I was able to compliment her on the remarkable 2016 Diamond Creek wines we had sampled. Although I didn't have the opportunity to know Boots well, her kindness, charm, feistiness and joy of life just simply left an unforgettable impression. When I am asked what is so special about the wine business, my answer is invariably "the people", and Boots Brounstein is Exhibit A for me. Godspeed Boots, and much love and and respect to your son Phil Ross and your lineal and winery family.
This month's Chapter will feature a new category of recommended wines, in honor of my college (and recently graduated) daughters and their friends: The Twenty Something Special. This recommendation will be in addition to our ongoing Value Wines and Worth A Splurge Wines. We hope you will enjoy this new addition to The Wine Bargain Sleuth.
And now, without further ado, here are this Chapter's recommended wines.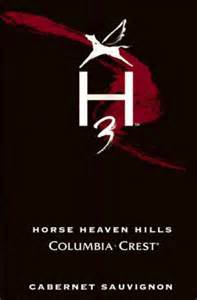 Value Wine No. 1: Columbia Crest Cabernet Sauvignon Horse Heaven Hills 2016.
We have written about this Columbia Crest value before, but the fact is that there are very few expressions Cabernet Sauvignon that are this high quality in the zip code of the H3 Cabernet Sauvignon's $15 suggested retail. If you are looking for a great "house Big Red", you can do much worse than having several bottles of the Columbia Crest H3 Cab in reserve for those pesky unexpected guests, Taco Tuesday or Pizza Wednesday. A tasty profile of blueberry with a hint of dark cherry combined with a hint of cocoa, this beauty pairs well with red meats, tomato sauces and even simply as a wine cocktail. How high quality is this wine? Wine Spectator has bestowed a stellar 90 rating on this value Big Red, which is quite simply a remarkable bang for your buck. Better still, the wide distribution of the Columbia Crest H3 Cabernet Sauvignon 2016 will permit a clever sleuth to purchase a bottle for less than the suggested retail, to wit, the bottle I purchased today for $9.99. Let's talk about value, sleuths!

Value Wine No. 2: Courtney Benham Sauvignon Blanc Napa Valley 2018.
In the Great Southwest, a quality Napa Valley Sauvignon Blanc is a guaranteed crowd-pleaser around the pool or for a summer cocktail. The Napa expression of the international Sauvignon Blanc grape tends to be a bit rounder than others, with flavors such as peach and nectarine rather than the grapefruit and citrus profile generally associated with, say, the New Zealand Sauvignon Blancs. A terrific value version of this wine is the Courtney Benham Napa Valley Sauvignon Blanc 2018, which retails for a reasonable $18. The Courtney Benham 2018 offering adds the unique profile of a hint of mango to the classic Napa Valley Sav Blanc palate, making the wine slightly exotic and pleasing. Widely available, the Courtney Benham Napa Valley Sav Blanc 2018 will likely become a house favorite for your home and a delicious alternative to Chardonnay for a true value price. Go grab a bottle or three today!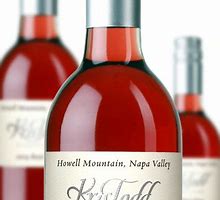 Worth a Splurge Wine No. 1: Kris Todd Rose 2018.
One of my favorite surprises of the summer of 2018 is a rare wine indeed: A Howell Mountain Cabernet Sauvignon-based Rose from our friends at KrisTodd Vineyards. A peek at the photo above gives a small hint of the fact that the KrisTodd Vineyards Rose 2018 is not your average, pale pink blush wine. The flavor of this beauty is satisfying to a Big Red drinker, with flavor profiles of strawberries and white cherries, and still finishes like a classic Cab Sav grape that the wine is based upon. This dark pink Rose pairs incredibly well with shellfish and sushi, as well as simply by itself. Not that I have personal experience mind you, ahem, but the Sleuth has been told that if the KrisTodd Rose 2018 is served ice cold it makes for a lengthy, memorable night around the pool in the summer. KrisTodd Vineyards co-owner Kristine Ratfield said it best about her superlative Rose: "I made the Rose from my Howell Mountain Cabernet Sauvignon grapes…because I can!" What else need be said? One can find the KrisTodd Vineyards Rose 2018 at a reasonable $28 per bottle directly from the vintner:
https://www.kristoddvineyards.com/shop/wine-club/spring-2019/2018-rose
Worth a Splurge Wine No. 2: Austin Hope Cabernet Savignon 2016 (Paso Robles).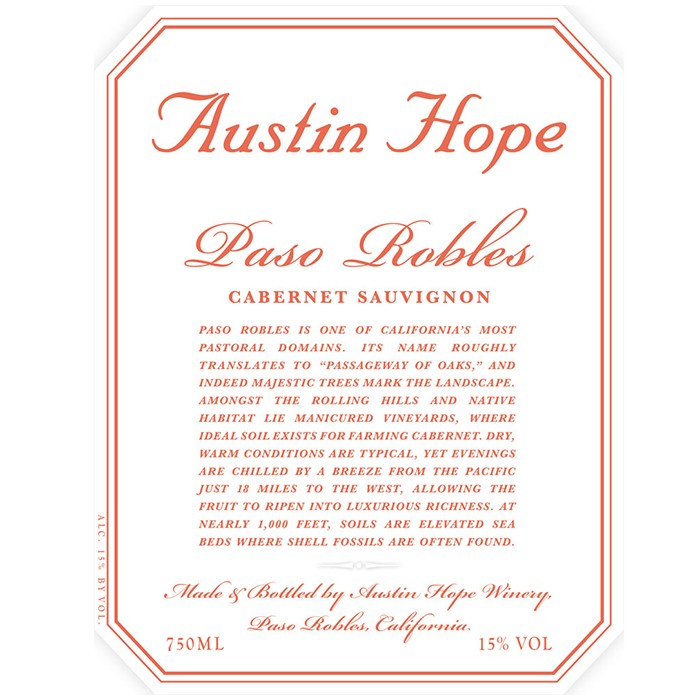 The Paso Robles region of California has been written about previously in this blog. Great wineries such as Justin, Epoch, Turley and Linne Calado, among others, have become absolute favorites of your humble sleuth. Now it is time to add another Paso Robles winery to my growing list of amazing wineries: Austin Hope, and particularly its world-class Austin Hope Cabernet Sauvignon 2017 (Paso Robles). For the second vintage in a row, Austin Hope has managed to create and produce a stellar Big Red that not only competes with but perhaps outclasses many venerable Napa giants at a price point under $50. Wine Enthusiast magazine recently awarded a stupendous 97 rating on the Austin Hope Cab 2017 vintage, after a 96 rating from the prior year's vintage from the same publication, essentially announcing the winery as a force to be reckoned with. This beautiful Cab is best described as silky and elegant, fully of dark cherry, cassis and baking spice, with a hint of mocha, with a seemingly endless finish. Widely available at the price of $47, I would strongly recommend that Big Red fans check this one out. And soon!

Twenty Something Special: Lindemans Cabernet Sauvignon South Eastern Australia Bin 45 2018.
This new category of recommendations is a shout out to Madison, M'Lynn and their friends, who always fuss that they can't afford good wine on students and young grads budgets. I humbly promise to recommend at least one great deal for your penny pinching budgets! Twenty Something Special Number One is a Down Under special from South Eastern Australia: Lindeman's Cabernet Sauvignon South Eastern Australia Bind 45 2018. The good news on the Bin 45 Cab: It retails for a paltry $6! The better news: It is pretty, pretty good, recently receiving an 86 rating from the likes of Wine Spectator. The flavor profile of the Lindeman Bin 45 Cab is wild cherry and cola flavors, along with spice and cedar notes. Even though it is a 2018 vintage, it is ready to drink now, recalling that the wine producers in the Southern Hemisphere are actually one growing season ahead of the US. Even better, careful sleuthing will locate a 1.5 liter bottle of this quality Cab for a bargain $8.99. Look no further, bargain hunters!
Great Wine Quote for this Chapter:
"Remember, it is not just France we are fighting for, it is Champagne!"
–Sir Winston Churchill
(c) 2019 The Wine Bargain Sleuth