Greetings and salutations! I am writing this month's Chapter with the realization that I am no longer a 50-something white guy, as last month's birthday kicked past yet another important mile marker. Two thoughts: (i) How in the wide world of sports is that possible(?); and (ii) All things considered, it beats the heck out of the alternative. And what better wait to celebrate that big day than to get together with good friends and possibly another January 1960 baby (not to name any names, Lori, as that would be indiscreet) and to head to Napa and Sonoma for a long tasting weekend. In any event, our merry group was more or less evenly divided between females and males, so it was decided by the Birthday Girl that we visit some amazing Sonoma County purveyors of Chardonnay and Pinot Noir and some remarkable Napa Valley Big Red wineries to satisfy everyone's palates over the course of the long weekend.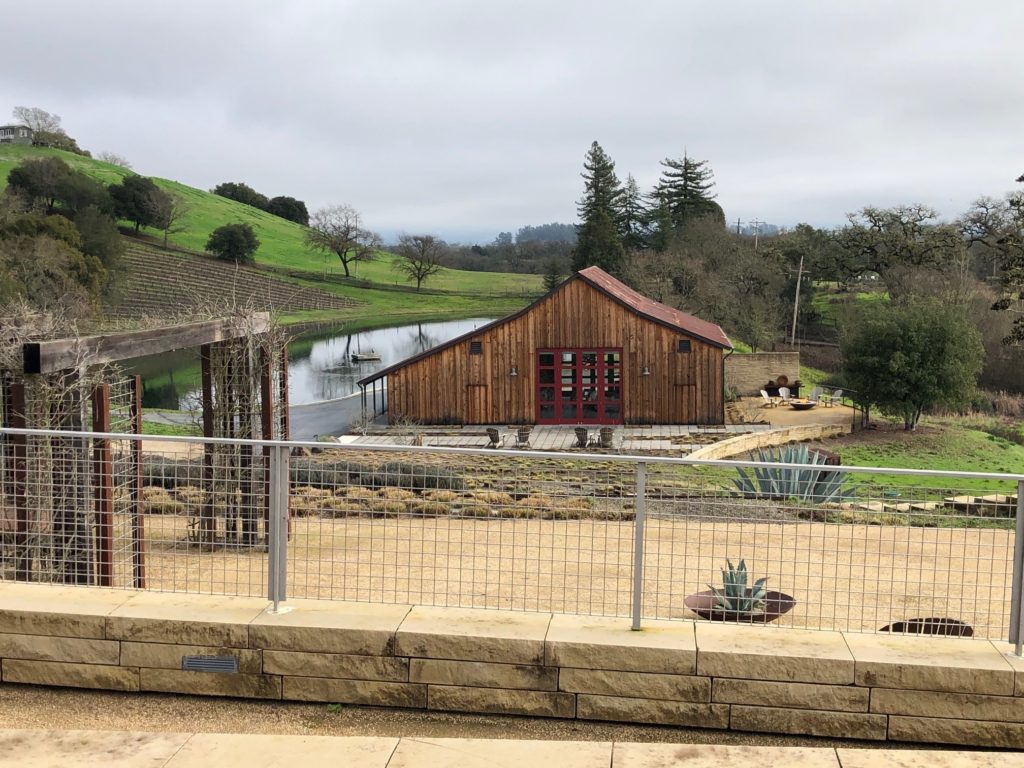 First stop was Kistler in Sonoma County near the Russian River AVA. My dear college buddy and hostess with the mostess Karin Clark Ott warmly greeted our thirsty group after a grueling 45 minute luxury van ride from our temporary digs in Calistoga with some rare 2013 Vintage Kistler Chardonnay, immediately proving to a few doubting Thomases in our group that yes, quality California Chard can in fact be aged beautifully. Our tasting went on to sample Kistler's current 2017 lineup of Chardonnays and even a great Pinot Noir in Kistler's elegant barn amidst the picturesque vineyards. Although candidly I have yet to taste a Kistler Chard that didn't impress, my personal favorites were the McCrea, the Trenton Roadhouse and the "Kistler Kistler" Chards. Kistler's winemaking style is more reminiscent to my tastes to the great white Burgundies than a classic Napa buttery and oakey Chard, and while the suggested retails (typically $80-90) are not inexpensive, they definitely outpunch their class and therefore are relative bargains for lovers of great whites. For more info, check out the Kistler website at https://www.kistlervineyards.com/.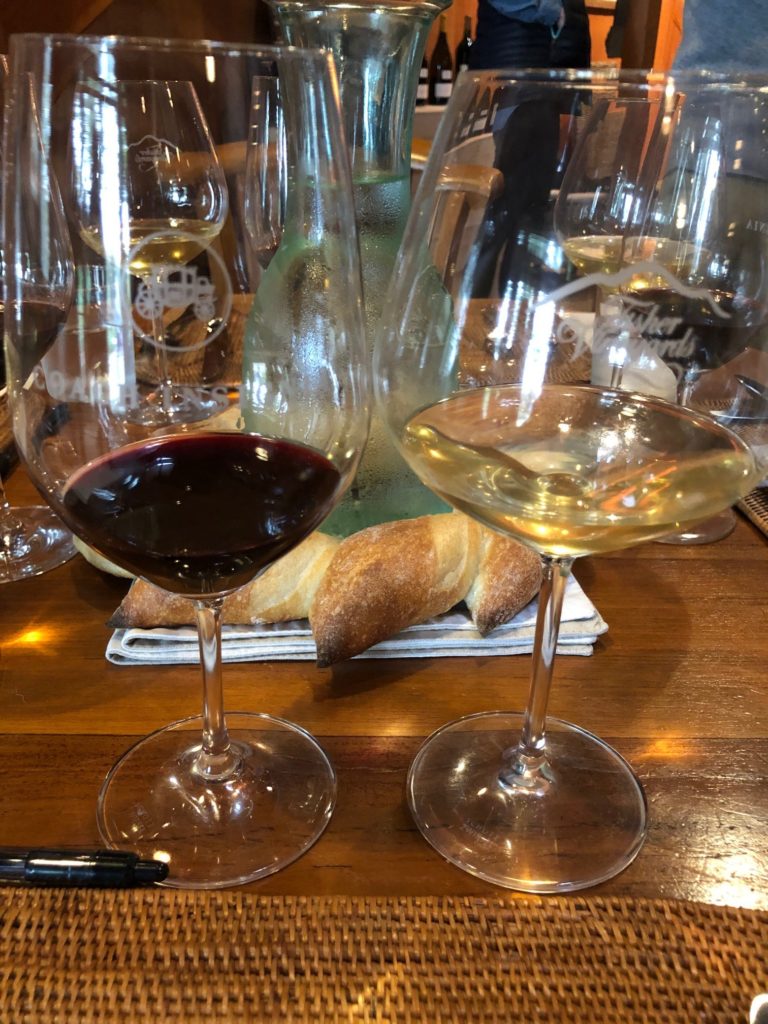 Next up was the classic Fisher Vineyards in the hills above Santa Rosa, still in Sonoma but very close to northern Napa Valley. We were served an amazing short rib lunch by the Fisher family members, including Cameron, our hostess for the day and a daughter of the original owners. We were able to sample several very good Fisher Cabs. My favorite of those sampled that day was the Fisher Coach Insignia 2015, a full-bodied Cabernet Sauvignon that featured dark fruit with a bit of spice and fine tannins that made the Coach Insignia Cab quite enjoyable despite its youth. I also managed to make off with a bottle or two of the Fisher Cameron's Blend Cab 2014, based upon our hostess's recommendation that it was "really good." Apparently Cameron is a woman of her word, as Wine Advocate bestowed a very good 92 rating on both her wine and the Coach Insignia. Again, the Cabs were not inexpensive, but were priced well relative to some lackluster Napa Cabs based upon the continued skyrocketing cost of Napa Cabernet grapes over the past couple of years. To find out for yourself, please review the Fisher website: https://www.fishervineyards.com/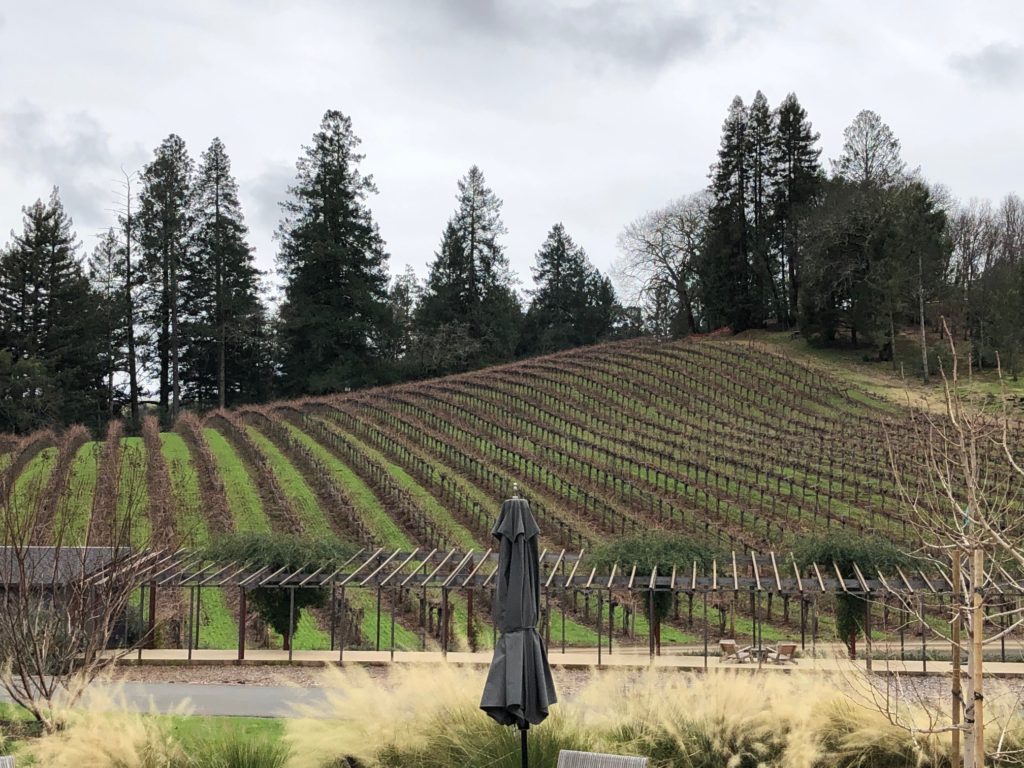 The last stop on day one was a return to Napa Valley from Sonoma up to Theorem Vineyards on Diamond Mountain. Theorem is a relative newcomer on Diamond Mountain, one of the favorite terriors of your humble Wine Bargain Sleuth, but it's clear that they have quickly caught up with their stellar Cabs and even a remarkable Merlot. My personal favorite of a strong lineup was the 2017 Hawk's Prey Cabernet, a full-bodied Cab that has a profile of dark berries, baking spice and a lengthy, elegant dry finish. Already delicious at this young age, I am looking forward to aging this Theorem Cab for 3 to 4 years and having it paired with a thick filet or perhaps a bone-in ribeye steak. Clever sleuths should put Theorem on your radar if you are a fan of Big Reds with mountain-sourced fruit. Check out the Theorem website to find out more about this winery: https://www.theoremvineyards.com/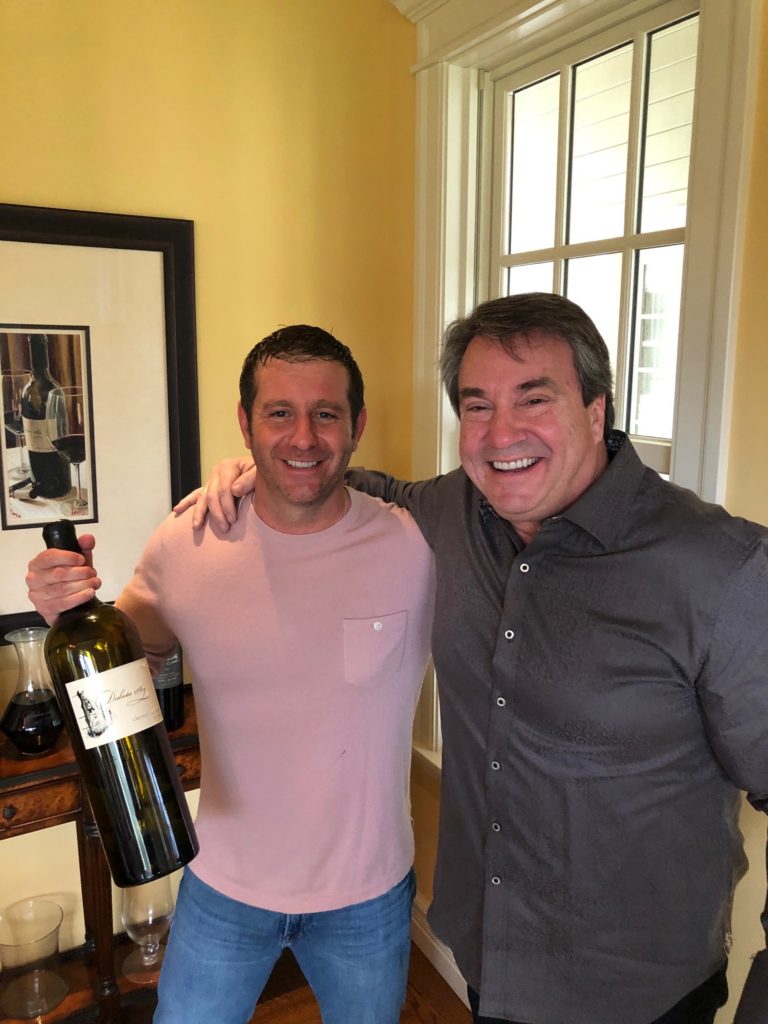 The next morning was started with an informal tasting of some smaller wineries that our birthday girl had arranged for us, followed by a great visit to a relative Napa Valley newcomer that is making some waves and has quickly become a darling of wine publications such as Wine Spectator and Vinous in a very abbreviated period. Co-owner and founder Todd Newman of Dakota Shy was our gracious host for the visit, and he told our group a compelling story of passion and entrepreneurship that was absolutely infectious. Todd treated us to tastings of the delicious 2019 Dakota Shy "McKenna's" Sauvignon Blanc, the 2017 Dakota Shy "Ten" Cabernet Sauvignon, the 2018 Dakota Shy Moulds Cabernet Sauvignon and the 2018 Dakota Shy Oakville Ranch Cabernet Franc, along with a delicious lunch served onsite. Our spirited group was thoroughly impressed with the entire lineup, and let's just say that there was a better than zero chance that your Sleuth ended up with a representative sample for his own enjoyment! More info can be found at http://www.dakotashywine.com/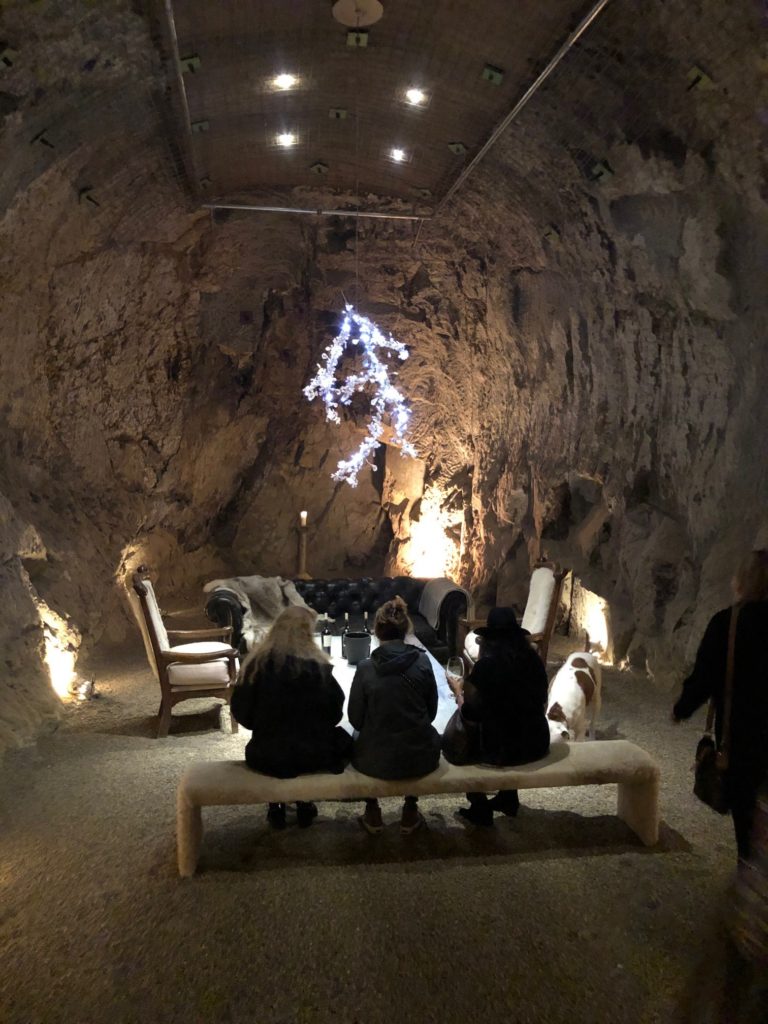 Our next stop (don't try this at home, dear readers, as our group are all professionals!) was at Hourglass in Napa Valley, where we were treated to their amazing wine cave as well as their delicious 2017 Hourglass Blueline Merlot and 2017 Hourglass Estate Cabernet Sauvignon. Along with the earthy feel of the large cave, Hourglass's absolutely enormous wine dog (my belief is that he is at least 50% horse) entertained several of our crew by plopping down on the couch and making himself and us at home. Well worth a visit, and more information may be found at https://www.hourglasswines.com/.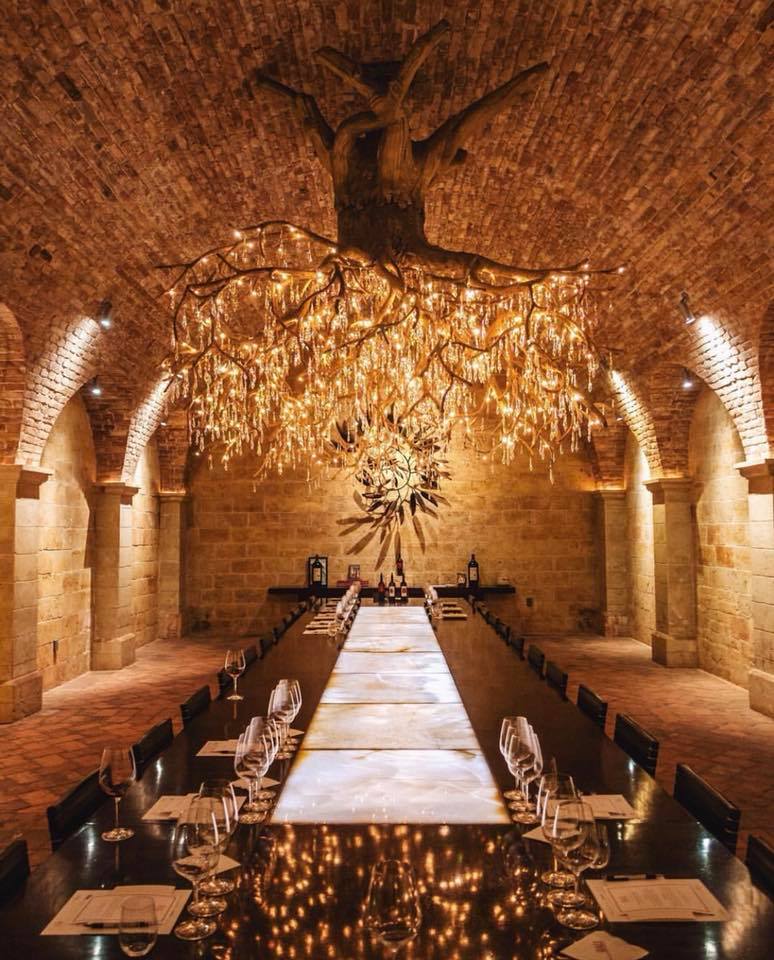 Our final official tasting was at the singular Hall Rutherford Winery on Rutherford Hill, just east of the Silverado Trail. Hall's warm host treated our enthusiastic crew to a world class tasting of Hall's storied Cabs which included 2014 vintages of each of the Hall Howell Mountain Cabernet Sauvignon and Hall Mt. Veeder Cabernet Sauvignon and the near-perfect rated 2015 Hall Exzellenz Cabernet Sauvignon. The tasting also included a welcome glass of wine overlooking Napa Valley from truly one of the most magnificent views possible, followed by a tour of the winemaking facility and a walk through Hall's pristine wine cave and barrel tasting of the upcoming 2018 Kathryn Hall Cabernet. Finally, we sat down in the Hall tasting room at the end of the cave, which is highlighted by the one-of-a-kind chandelier pictured above. This tasting proved to be the highlight of a weekend of incredible tastings and tours for our group of sleuths. To visit either of Hall's beautiful wineries, see the Hall website: https://www.hallwines.com/.
The weekend in Napa and Sonoma reminded me that there are very few long weekends that are as enjoyable as a trip to wine country with fellow wine lovers. The weather, even in January, the remarkable food, the varied and spectacular wines, from world class Big Reds to memorable Chardonnay, to terrific Pinot Noirs and mouth-watering Sauvignon Blancs make wine country a stellar destination. Treat yourself and your loved ones soon. You'll be really happy that you did. All of the wines noted above are truly Worth A Splurge Wines.
Wine Thought for the Day:
There are few things in life as devine as sharing great wine with even better friends, and truly my lovely significant other and I were fortunate to do just that. Thanks to all the winery and people who made this possible.
Until next time, Cheers to you!
© The Wine Bargain Sleuth 2020—All Rights Reserved