Greetings and Salutations! Your humble wine bargain sleuth occasionally fields questions relating into my apparent love of wine and all things related thereto. Why wine instead of other passions such as golf, hunting, fishing, knitting or maybe canasta? Well, my friends, the answer to that question is complicated and lengthy, but I thought it might be insightful and a little fun to stroll down memory lane to demonstrate five recent examples of why wine has become such a fascination of mine.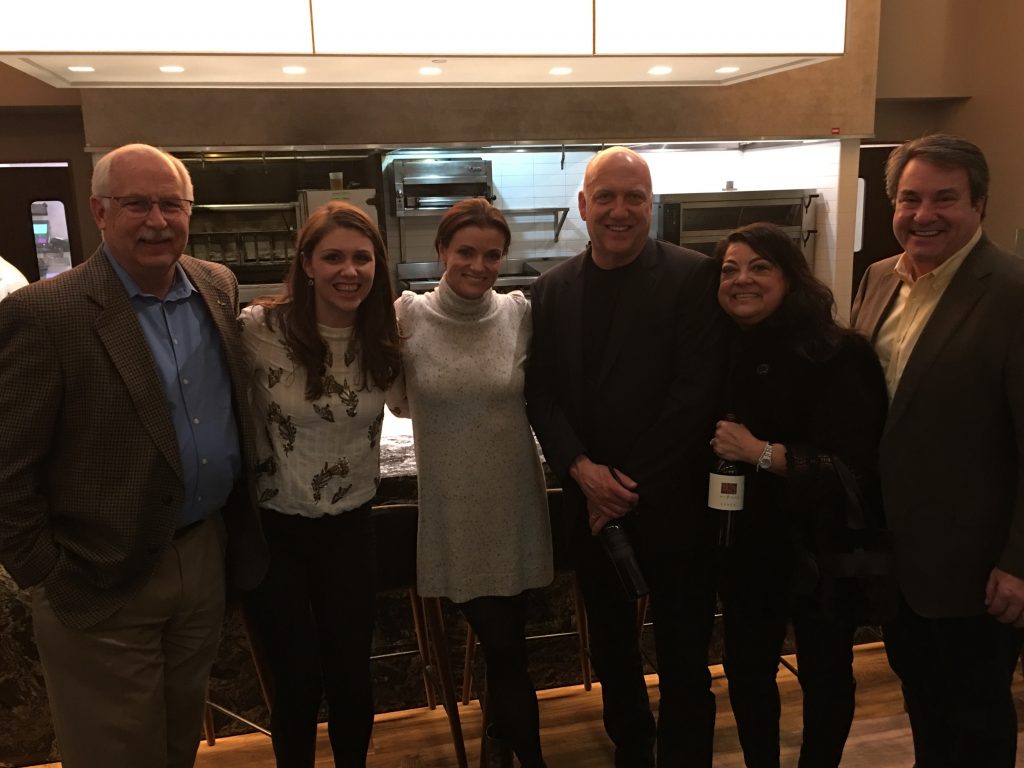 REASON NUMBER 1: EPOCH WINE DINNER AT FLORA STREET CAFE
Reason number 1 that 2019 has been a great wine year to date is the Epoch Wine Dinner at Stephen Pyles' Flora Street Cafe in January. Proprietors Liz and Bill Armstrong (shown center in the photo above) and their daughter Lindsey Armstrong Strawn (to the left of Liz) truly transformed the garden variety wine dinner to a celebration of the marriage of world class fare with sublime Rhone-style Epoch Wines from Paso Robles. Attendees were treated to varying wines which included the proprietary Epoch White, Rose and several of my favorite Red Blends created by rock star Winemaker Jordan Fiorentini. Such was the demand for the Epoch Wine Dinner that Flora Street Cafe essentially treated the restaurant as closed for a special event, rather than simply using a small separate room as is more typical for wine dinners. The general enjoyment and merriment of the wine lovers at the event were greatly enhanced by the Armstrongs' genius of requesting that the bold among the attendees sing a wine-themed song, with the "winners" each receiving a prized bottle of Epoch wine. Liz and Bill, come back to Dallas for one of your singular wine dinners anytime!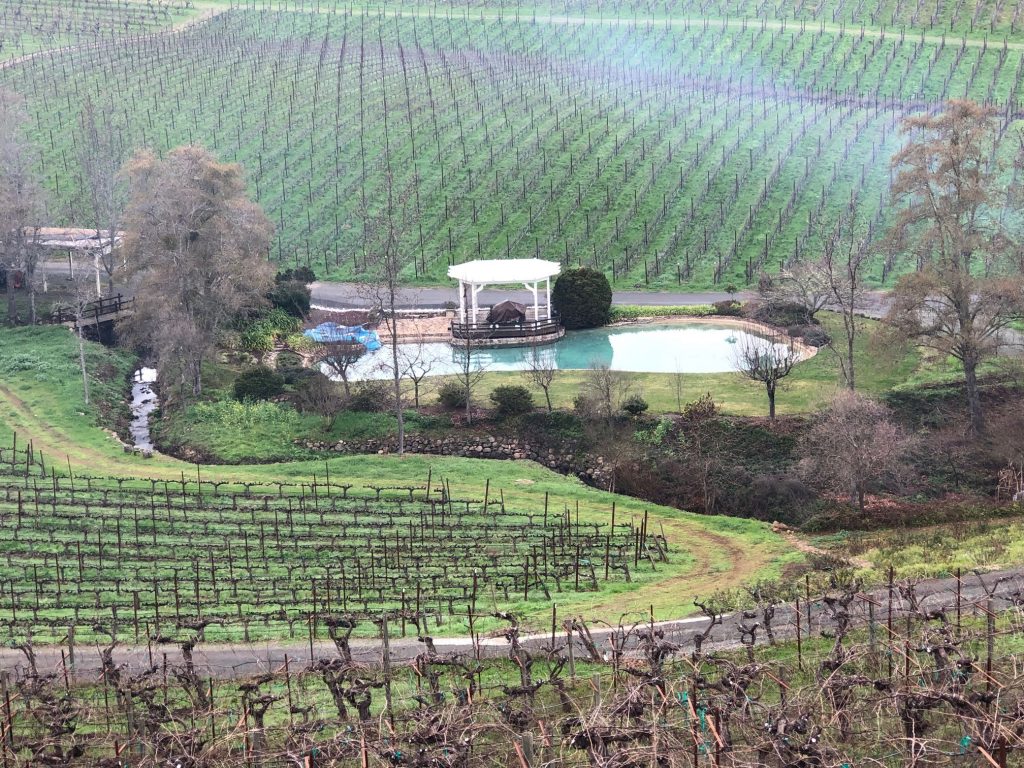 REASON NUMBER TWO: A VISIT TO DIAMOND CREEK VINEYARDS
Reason number 2 is a February visit to legendary Diamond Creek Vineyards in the fog of the Diamond Mountain AVA of Napa Valley. Founded by Boots Brounstein and her late husband Al in 1968, Diamond Creek Vineyards is widely considered one of the icons of Napa Valley and the original pioneer of Diamond Mountain, one of my favorite Napa appellations. Diamond Creek's philosophy of winemaking is to make 100% Cabernet Sauvignon wines from the three principal estate vineyards Volcanic Hill, Gravelly Meadow and Red Rock Terrace (as well as the occasional release of the Lake Vineyard). Big, powerful Cabs with distinctive personalities characterize the Diamond Creek Vineyards wines in spite of their relative proximity to the other vineyards. Our visit to Diamond Creek even included a tour of the breathtaking grounds, a vertical tasting of the different estate Cabs and even a brief visit with both the elegant Boots Brounstein (who said hello on her way back from a pilates class(!)) and her son Phil Ross. All in all, our visit was a memorable introduction to a pioneering Napa Valley family and its scenic and venerable winery.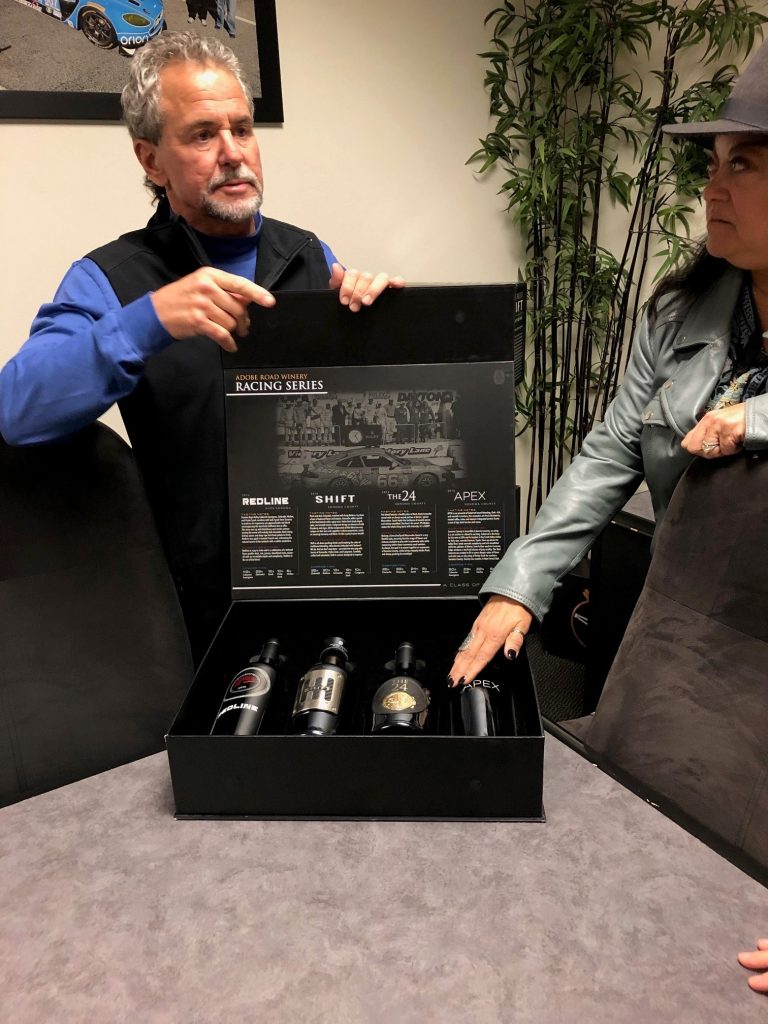 REASON NUMBER 3: A PREVIEW OF THE RACING SERIES BLENDS OF ADOBE ROAD WINERY
Reason number 3 is the release of an exciting new wine series. Regular readers of The Wine Bargain Sleuth have most likely caught on that I am an unabashed fan and cheerleader of Adobe Road Winery and its president, Kevin Buckler (pictured above with Mrs. Sleuth). A recent visit to Adobe Road afforded a preview of the new 4 car-themed wine blends that constitute the Racing Series: Redline, Shift, The 24 and Apex. Although still in their relative infancy, each of the Racing Series wines have already received 90+ ratings from the likes of Wine Advocate and Wine Spectator, pretty salty starts to a young marketing campaign. Your humble sleuth likes nothing better than a scoop on a cool piece of news, and between a proclivity for fine cars and a jones for great wine, how could this preview not be a highlight for February? Check out the Racing Series blends. They are both imaginative (courtesy of talented ARW winemaker Garrett Martin) and remarkably tasty. Even better, each outdrinks its retail price as well!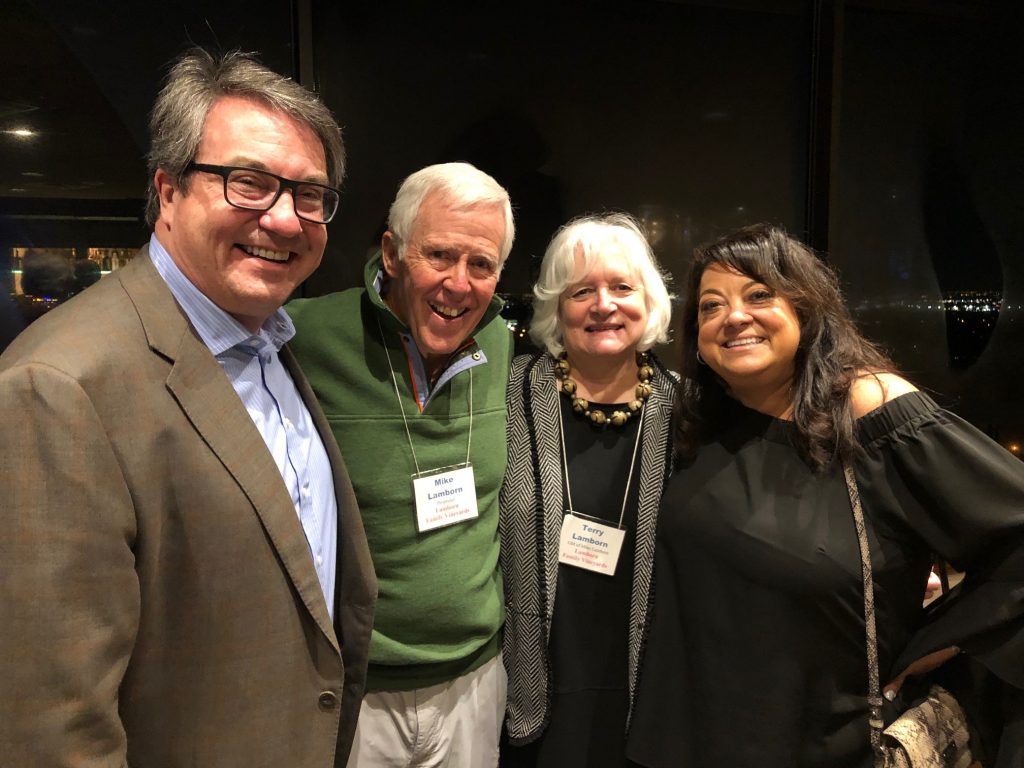 REASON NUMBER FOUR: A TASTE OF HOWELL MOUNTAIN COMES TO DALLAS
Reason number 4 is an outstanding wine event at the Park Cities Club in Dallas which afforded a chance to renew friendships with the proprietors of some excellent wineries from Howell Mountain in Napa Valley, including Tod and Kristine Ratfield of KrisTodd Vineyards (pictured far above), Mike and Terry Lamborn of Lamborn Family Vineyards (pictured above) and Marc Cohen of Howell at the Moon Winery. Fellow Dallas wine sleuths got the opportunity to mingle with our guests from Howell Mountain while tasting over 20 terrific offerings and interpretations of the stellar Howell Mountain Cabernet Sauvignon and Zinfandel grapes. If you haven't had the opportunity to attend a wine festival, you don't know what you are missing. Great stories, big personalities, quality wine friend attendees and, of course, the juice doesn't suck. Just sayin'….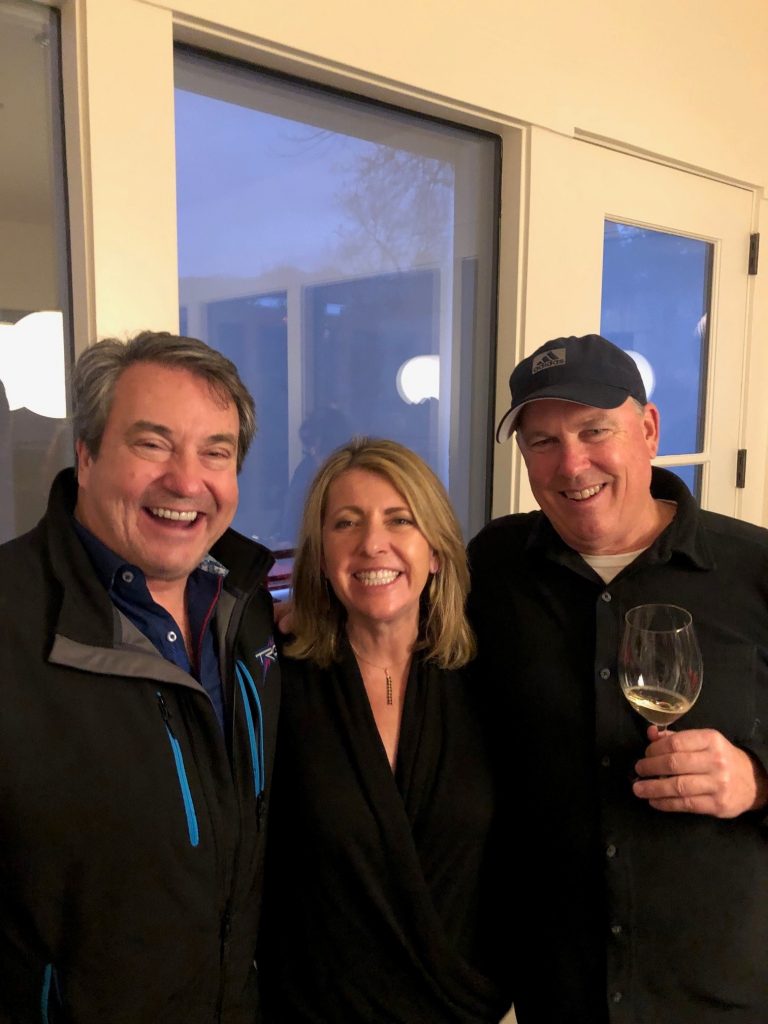 REASON NUMBER FIVE: A REUNION WITH WINEMAKERS
Reason number 5 was a delightful reunion in Napa with Peju winemaker Sara Fowler (center) and Frank Family Winery winemaker Todd Graff (right) at Frank Family. I was fortunate to meet Sara and Todd on a terrific wine cruise that featured their collective talents several months ago. Todd and Sara boldly led a small but adventurous group of renegade passengers on a memorable late night invasion of Venice the last night of the excursion, but then again that's another story for another time. During a February visit to Napa Valley, Todd was kind enough to invite Sara and several wine cruise veterans and friends to join him for some exquisite Frank Family wines, including a reserve Chardonnay and reserve Cabernet. A day earlier, Sara invited us to preview her new winemaking venture Calmere Estate Winery, a sister winery to Peju. Calmere is a Carneros-based winery that features Chardonnay and Pinot Noir, both of which were delightful based upon my first visit. I! Truly one of the best things about a fascination with all things wine is having the opportunity to meet terrific people such as Sara and Todd!
And now, without futher ado, here are this month's Value Wines and Worth a Splurge Wine.

Value Wine No. 1: Chateau Giraud G Bordeaux White 2016
With spring comes colorful, fragrant flowers and budding trees, as well as warmer weather that pairs so delightfully with light, crisp wines. Some of my personal favorites include Bordeaux Blancs from France's legendary red wine region. In addition to being refreshing with their cleansing acidity and nuanced with their classic blends of Sauvignon Blanc and Semillon, many of these French beauties are an amazing value as well. One vivid example of a value Bordeaux Blanc is the Chateau Guiraud G Bordeaux White 2016, which retails for a very reasonable $17. An excellent wine in its own right, this Chateau Guiraud G is an absolute steal at this price point, and it is our selection for this month's Value Wine No. 1. For my fellow sleuths that are not yet familiar with the flavor profile of an excellent white Bordeaux, the profile is similar to and yet different from both a Napa Valley Sauvignon Blanc and a New Zealand Sauvignon Blanc in that there is less of a grapefruit profile and more of lemon and peach taste on the mid-palate and a hint of minerality and chalk that is delightful and satisfying. The Chateau Guiraud G 2016 is no exception, and it would pair well with a lemon chicken or baked orange roughy entree. What about the critics? How does a 92 from James Suckling and a 91 from Wine Spectator sound? The Chateau Guiraud G Bordeaux White 2016 is widely available, with 15,000 cases made. Pick up several bottles, or at this price point, a case today!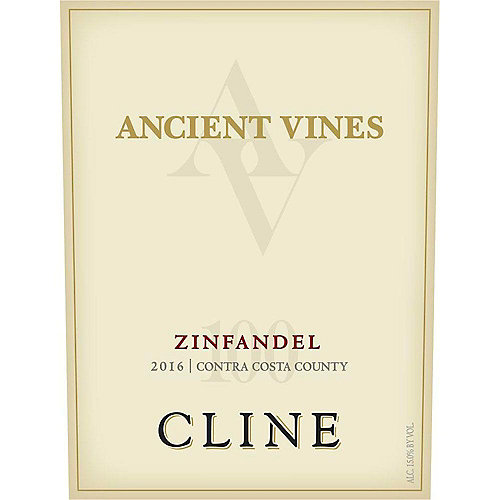 Value Wine No. 2: Cline Zinfandel Contra Costa County Ancient Vines 2016
Looking for a great value wine in a Big Red? Tired of the ongoing Napa Valley price creep? Enjoy a Zinfandel with a old vines taste profile? Well, wine sleuths, I believe I have you covered for this month with Value Wine No. 2! I highly recommend the Cline Zinfandel Contra Costa County Ancient Vines 2016! None other than leading wine publication Wine Spectator bestowed a strong 91 rating on this delicious red Zinfandel, calling it "Lively and supple, with floral raspberry and fresh pepper aromas and sleekly appealing cherry and licorice flavors that glide lightly along the finish." Similarly, Wine Enthusiast awarded an 88 rating and called the Cline Zinfandel 2016 a Best Buy. This Value Wine Big Red was also named Number 40 of 100 of Wine Spectator Top Wines of 2018, despite its humble suggested retail price of $15. This wine, from south of Napa Valley in Contra Costa County of the East Bay, pairs wonderfully with pizza, BBQ, burgers and even steak skirts. Best of all, its production of 50,000 cases makes the Cline Zinfandel 2016 widely available for your own cellar at your local beverage center. Go stock up a case or so at this modest price point and rare quality. What are you waiting for?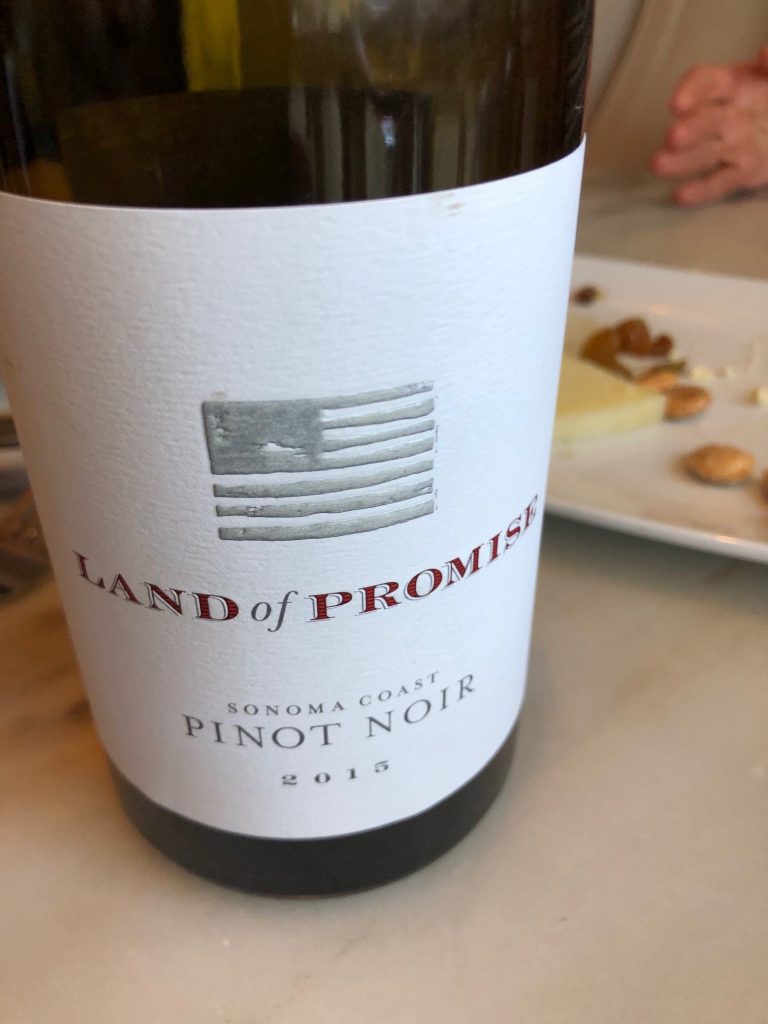 Worth a Splurge Wine: Land of Promise 2015 Pinot Noir
This rich, nuanced Pinot from world-class Terra de Promissio vineyard near Petaluma, California has only been labeled under its own name since the 2013 vintage, and is really better known for being the sole source or backbone to highly decorated wines such as the 2017 Williams Selyem Terra de Promissio Pinot Noir (recently awarded a stupendous 98 rating by Wine Enthusiast), the 2016 Friedeman Terra de Promissio Pinot Noir (a 93 rating by Wine Enthusiast), the Spell Estate Terra de Promissio Vineyard Pinot Noir (a 94 rating from Corkscrew Report) and several vintages of the renowned Kosta Browne Sonoma Coast Pinot Noir, including the 2009 vintage which was named Wine Spectator's Wine of the Year for 2011. However, the Land of Promise label has already garnered a strong 93 rating from Wine Enthusiast for its 2014 Land of Promise Pinot Noir. Even more impressive, this 2015 Land of Promise Pinot was awarded both a 2019 Gold Medal and a 2019 Judge's Selection by the prestigious TexSom International Wine Awards. If you are lucky enough to find a bottle, the 2015 Land of Promise Pinot retails for $75. If you are not, the 2016 vintage should be equally impressive. Find out more for yourself by checking out the website: www.landofpromisewine.com. Cheers!
Parting Thought for this Month:
Happy Mothers' Day to all the awesome moms out there. Trust us, we know that we couldn't have gotten here without you! Until next time!
© The Wine Bargain Sleuth 2019—All Rights Reserved